Here is some key information on this years event:
This year we are pitching up for an entire week from 25th July to 1st August 2022! However we will be limiting the arrival/departure days you can book to the following:

Arrival:

Monday 25th July
Thursday 28th July
Friday 29th July

Departure:

Friday 29th July
Sunday 30th July
Monday 1st August

Based on pre-registrations, we anticipate that Mon-Wed will be quieter compared to the weekend
2022 Pitch Prices per night:

Electric Hook Up: £40 (up to 4 people)
Adults: £15
Children 10-17: £7.50
Children under 10: FREE

Number of Gamers limited to 100 per day
You MUST have a gamers ticket AND camping ticket to gain entry (Gamer tickets are free with optional donation to help improve the event)
All camping ticket funds go directly to the campsite, Field of Games do NOT make a profit, any donations from Gamers Tickets will be used to improve the event (last year was table cloths, this year is likely to be lighting)
25 Electric Hook-up pitches available (Must supply your own EHU Mains hook up)
What?
Field of Games is an informal gathering of tabletop gamers camping in an open field bringing family and friends of the hobby together, it is organised by a group of volunteers who do this for the love of the hobby, Field of Games only accepts donations in order to cover organisation costs, 100% of all other funds (e.g. Camping costs) are sent to the Campsite
Whether you're a hardcore gamer or never played a game before you will be most welcome to join us and play with some truly fantastic people.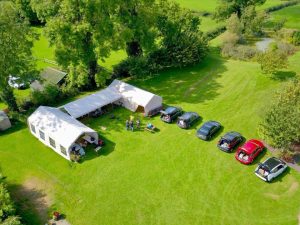 Where and when?
In 2022, from 25th July to 1st August, we will be meeting at Silverstone Farm Campsite in Northants, they have kindly also provided us with 3 marquee's with table, chairs and lighting!
Silverstone Farm Campsite New Rookery Farm,
Little London,
Silverstone,
Northants
NN12 8UP
http://www.grandprix-camping.co.uk/
Google Maps: https://goo.gl/maps/jisssYmfwFB2
How?

Go to Book Now to book your space at Field of Games 2022, tickets are limited and none will be available "on the door", those without a ticket will be turned away.
YOU MUST HAVE BOTH CAMPING AND GAMER TICKETS
EHU Pitches (Limited to 25 pitches)
£40 per pitch/unit per night for EHU (with a maximum of 4 persons pitch)
Children aged 9 and under are FREE
Non EHU Pitches
£15 per adult per night (18 years and over)
£7.50 per Child aged 10-17 per night
Children aged 9 and under are FREE
Gamer Tickets
All gamers must also have a "Gamer Ticket" with their name on it.
There is a optional donation of £2.50/£5.00/£10.00 which goes to covering the organisation cost of the event (this is the only money FoG see's, the rest goes to the campsite)
Price includes:
Access to gaming marquees (fully lit and enclosable)
Fridge/Kettle/Washup area
Access to BBQ
W/C, Showers, hairdryers
Parking and 24hr access (Gate opened by code outside of 7am-7pm)
All Camping costs are sent to the Campsite, Field of Games only holds any donations kindly given
Dogs are allowed on site presuming they are well behaved and cleaned up after.
Please Note: At this time we are not currently offering non-camping tickets however this will be revisited closer to the time.
Want to know more?
Join in the conversation over on our Facebook Group
We look forward to seeing you there!