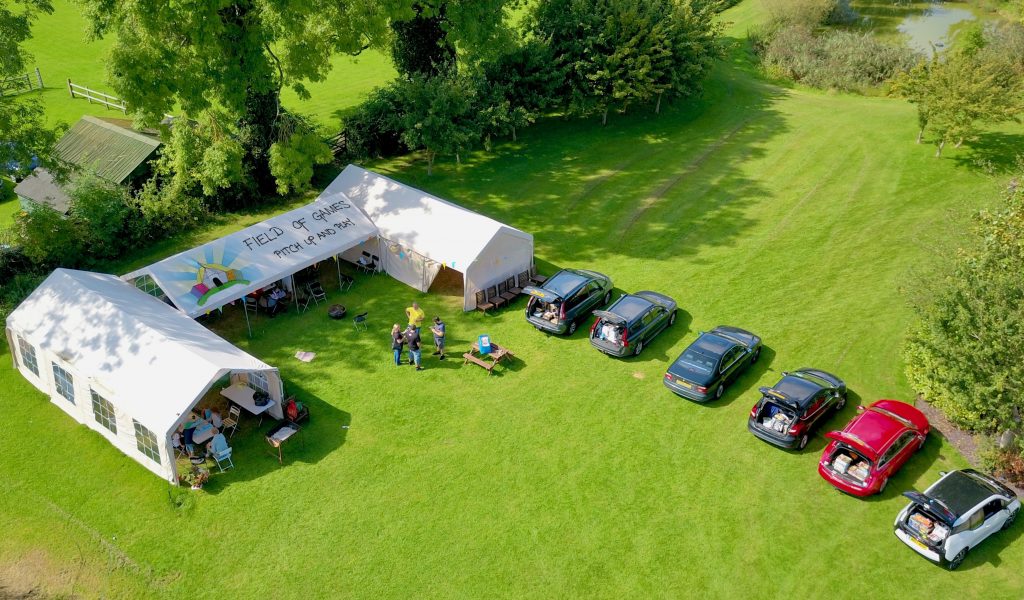 Campsite:
Arriving: You are welcome to arrive at any time after 9am on the day you have booked in from, on arrival please see Ian, Russ, Pez or Andy where we will let you know the best places to camp, alternatively call the campsite owners on the above number.
Departure: You are welcome to leave at any time on the day of your departure up until 10pm, there will be a skip available for you to throw all your bagged up rubbish into (please don't leave rubbish anywhere else but inside the skip, thanks)
Things to note:
The gate is open 7am to 7pm, outside of this time a code is required to come in and out (will be sent to attendees separately and displayed on a white board)
Cars can go on the field during setup however should be parked in the car park after this
If you need any help with putting up or taking down please feel free to ask!
There is a open pond on site which we would encourage children to stay away from.
Open Gaming: All Day EVERYDAY!
The marquee will be open 24/7 to fulfil your gaming needs, alternatively you are welcome to game in your own camping units if that suits you more. For those looking for a game please don't hesitate to ask, if you don't feel confident to ask for a game please stand by the whiteboards which will be our designated "SOMEONE PLEASE PLAY WITH ME!" area where those looking for more players can find you. You are welcome to bring your car onto the field next to the marquee so you don't need to keep going back and forth to your tent for games.
Things to note:
If you would like to share your gaming library with others, please leave your boot open next to the marquee for others browse/borrow games
If you do borrow a game please make sure you return it in the state you found it
Please keep an eye on the time and be considerate of others
BBQ & Firepit
There are 2 Charcoal BBQ's and a Firepit available to use onsite, you are welcome to use these at any time however will need to provide your own fuel/food. Friday from 7pm there will be a group BBQ where it would be great for you to bring some food and get to know some of the other guys staying this weekend. For vegetarians we recommend bringing a disposable BBQ since to prevent any sort of meat contamination.
Multi-Game Tournament: Sunday 11am to approx. 2pm
Craig Parnell will be hosting a free to enter mini-game tournament which has spaces for up to 16 people, if you would like to reserve a place please put your name up on the whiteboard near the marquee, the number of games being played will depend on numbers however we expect to play games which will take around 30mins each, such as Azul, Splendor, Carcassonne and Modern Art. The winner will be lucky enough to win a game donated by TheBoardGameHut.co.uk!
Games Store, TheBoardGameHut.co.uk: Saturday 2pm to 5pm
TheBoardGameHut.co.uk will be opening a pop up shop for a few hours and bringing a limited amount of stock with them, to ensure they bring what you want and get 10% while doing so please make an order through their site using code FOG2018, on the day they will be accepting Cash and Card payments.
Bring and Buy: Saturday 2pm to 5pm (Item check in 1pm-2pm)
The bring and buy will be outside the Marquee and will be hosted by The Board Game Hut, you will be asked to fill in a form detailing what you will be leaving with us along with your name, price for each item and contact number. We will then label your items with the price, your name and put it on the table for others to browse and issue you with a numbered ticket.
Things to note:
Cash Only (though you are welcome to find the person selling the item to make a electronic transfer)
There are no fees (though alcohol and food are always welcome as a thank you for hosting!)
Items left with us are at your own risk, we will do the utmost to ensure nothing happens to your games however we cannot take responsibility if it does
You can ask us at any time to amend prices but please keep it to a minimum as there will only be a few of us operating it
You are welcome to complete your own sales outside of bring and buy at any point during the weekend